10 Tips For Growing A Garden In Arizona
Garden season is upon us again here in Arizona. Here are the ten best tips we have come across for planting in the desert:

1. Plant after the last frost to ensure germination and proper rooting, mid-April is usually a safe bet in the Prescott area
2. Make sure to pay attention to where shadows fall across your planting area, most vegetables like between 6-8 hours of sunlight per day
3. Try a raised bed to keep unwanted critters out, a 4" raised bed is the perfect height for most gardeners to access their crops without having to hunch over
4. Try mixing native soil with the soil that you buy at the store, this will save money and make use of Arizona's nutrient dense soil
5. Check out the University of Arizona's Master Garden Manuel: https://extension.arizona.edu/pubs/arizona-master-gardener-manual
6. Most vegetables need to be watered thoroughly, to ensure the water makes it all the way down to the roots, a good rule of thumb is to use a long screwdriver to check how far down the water is making it
7. Plant what you will eat, grow foods that your family will enjoy ensuring your crops will go to good use
8. If you are planting in excess have a plan ready to dry, can or donate your extra yield, to eliminate waste
9. Compost garden scraps for use in next year's soil
10. If in doubt, one can always call the volunteer operated master-gardener hotline at 602-827-8200 x 301, volunteers will return your call regarding ANY garden related questions that you may have
Remember, the first step in growing a garden is planting a seed! By following the steps above you will be on the path to having a beautiful garden in your own yard.
Brought to you by The Stephanie Woods Team with Better Homes and Gardens BloomTree Realty 928.237.4435 https://www.prescottazhomefinder.com/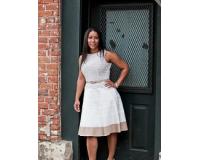 Author:
Stephanie Woods
Phone:
928-308-8565
Dated:
April 4th 2019
Views:
136
About Stephanie: ...